Florida Corporations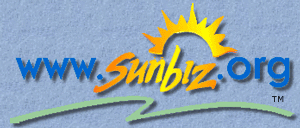 DreamWeb forms Florida Corporations through the state sanctioned website, www.sunbiz.org.
For $350 for a C-Corp or S-Corp, or $550 for an LLC, we provide the following:
State of Florida Articles of Incorporations
Obtaining an FEI Number for the Internal Revenue Service
S-Corps, filing form 2553 with the Internal Revenue Service
Generally, the first two steps in the process take less than a week; the third step can take up to 90 days. However, your corporation takes effect the day Tallahassee records your corporation, usually on the very same day it's submitted.
Not included in this $350 (C-Corp or S-Corp) or the $550 (for LLCs):
Corporate Seal
Stock Certificates
Record Book